Hybrid Hero Adhesive
Regular price

Translation missing: en.products.product.sale_price

$50.00

Translation missing: en.products.product.unit_price_label

Translation missing: en.general.accessibility.unit_price_separator

Translation missing: en.products.product.availability

Sold Out
The best lash adhesive for versatility and strength. 
Hybrid Hero is a lash artist's dream come true.  
The versatile formula means it can be used for all lash types – Classic, Volume or Hybrid. It works in all climates too, so it's perfect if conditions in your lash room can be temperamental. No matter the humidity, Hybrid Hero has your back. 
If you're looking for the best lash adhesive for a variety of lash types, Hybrid Hero promises to be your new go-to.  
Size: 5ml
Dry time: 1 second
Bond: 6 weeks
Humidity: 30-70%
Viscosity: Thin-Med
Color: Black
Flexibility: Medium
Climate: All
Temperature: 68-72 F
Application: Classic & Volume
Benefits
Increased Retention

Long Wearing

Time Saver
Store in cool dry place with silica gel packet for best quality. Each bottle comes with a complimentary silica gel packet to absorb excess moisture and keep adhesive fresh.
Shake for 2 minutes prior to dispensing a drop.
If adhesive becomes clogged, use provided adhesive pin.
Adhesive can be used up to 2 months once opened and can be stored unopened for up to 6 months.
Clean the adhesive nozzle thoroughly after each use with a lint-free wipe and acetone or alcohol to avoid excess build up or clogging.
Dispense a new adhesive drop every 10-15 minutes, depending on humidity, for optimal performance.
Ethyl-2-Cyanoacrylate, Alkoxy-2-Cyanoacrylate, n-Butyl-2-Cyanoacrylate, Polymethyl Methacrylate, Carbon Black
×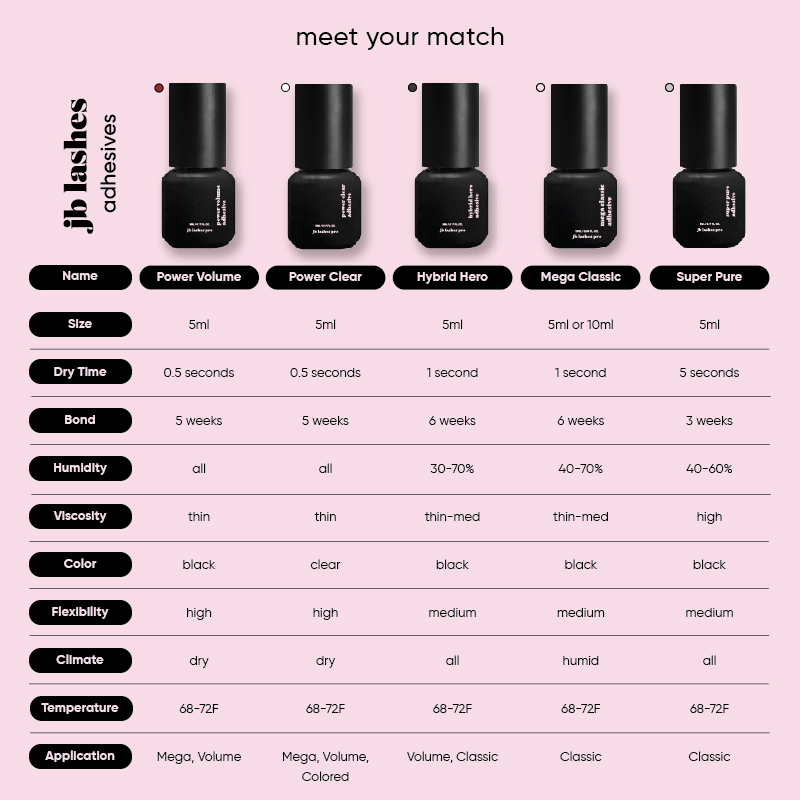 Customer Reviews
03/01/2023
Sydney K.

United States
Less impressed
Overall I am not very impressed. I have used JB glue for years and loved it but the new formula is more difficult to use in my opinion. It does not adhere quick enough and many of my clients are more sensitive to it now when I received these last two bottles.
11/06/2022
Jenna A.

United States
Terrible quality
The quality of the adhesive has changed over the last two years, everything in regards to the way he is, he said does its job, and any adhesive by this brand for that matter, has changed radically. Any money spent on adhesives from this brand since the beginning of 2021 has been a complete waste of money and resources,. It is my best advice to recommend the potential customers purchase from different brands, such as BBL lashes.